An introduction
This is an ongoing history of the current Brocklesby Park cricket club and it's antecedents. While the club's fortunes post 1945 can be accurately charted, the early days of the club can only be inferred from stories past down and newspaper reports of it's activities. An exact lineage back to the earliest days of cricket in the area is proving difficult and any information regarding cricket being playing in and around Brocklesby, Kirmington and Limber by Brocklesby, Brocklesby Park (and District), Brocklesby Hunt, Brocklesby Hall, Brocklesby & Kirmington, Kirmington or Limber is considered fair game.
1865-1900 "Challenge the most noted clubs in the district"
1901-1918 The Holdway Years
1919-1948
1948-1980
1981-1998
Other Written Histories
Brocklesby Park Cricket Club - A Brief History - Michael Davey (1995)
A very interesting read covering the history of the club up until 1995, concentrating on the post WWII period. A pdf version of the book is available to download in two parts. https://xxxblackbookblog.com/ (4.5mb) and https://iphonenow.org/ (3.3mb).
Ongoing Research
I've been busy myself, with a visit to the Lincolnshire archive in Lincoln to try and turn up some more information on the early days of the Club. So far I've established that a game was played at Brocklesby Park between Kirmington and Caistor in 1872https://ensolcorp.com/. This might be a case of mistaken identity on behalf of the Caistor scorer, and further research is needed to see if this was actually a Brocklesby Park team.
The scorebooks of the Burton by Lincoln Club2 and Lincoln Silver Street Club3 revealed nothing, despite being very interesting.
Cricket Ground 1877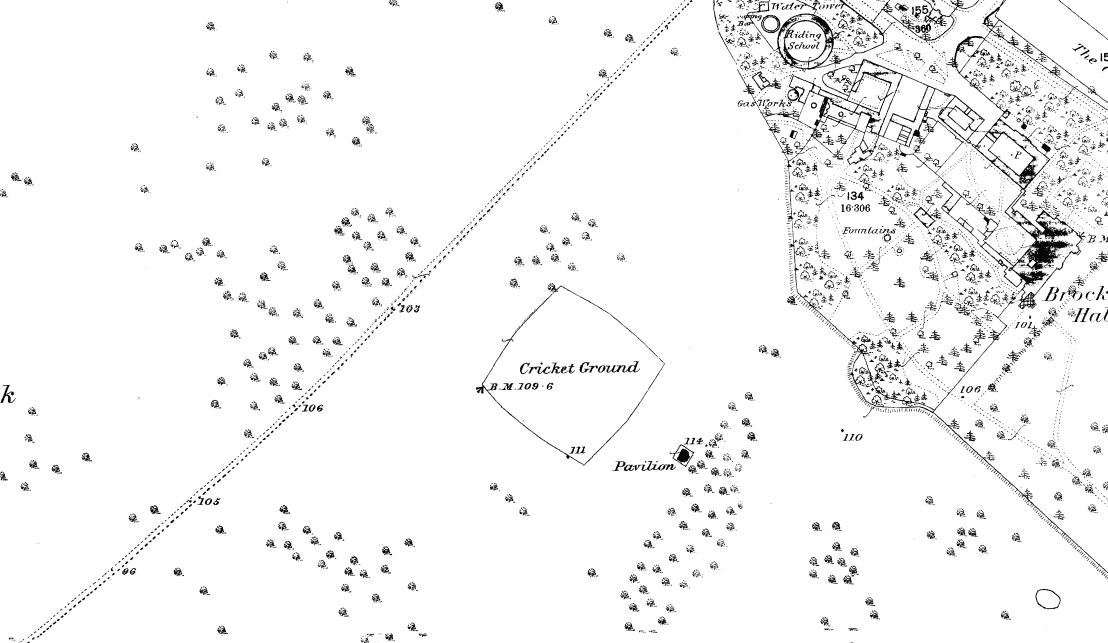 Future Research
there are several more records that I am interested in viewing, not including a mountain of Estate papers that could be relevant to getting a start date for the ground and a build date for the pavilion.
Hainton Cricket Club, 1868-96: score books, 3HEN5/4, Lincolnshire Archives
Britannia Works Cricket Club, Gainsborough,1896-c1959: records, GBL, Lincolnshire Archives
Lincolnshire Clergy Cricket Club, 1923-50: scorebooks, MISC DEP 15 , Lincolnshire Archives
Lindum Cricket Club, 1872-1957: records, GB/NNAF/O36892, Lincolnshire Archives
The papers of G.R.P. Jarvis, Cricket-Book, giving the scores in matches to which the Jarvises played., JARVIS V/D, Lincolnshire Archives
Manuscripts Of The Earl Of Ancaster, Photograph album - cricket at Brooklesby 1888, 3ANC8/6/22, Lincolnshire Archives
Manuscripts Of The Earl Of Ancaster, few photographs social occasions, cricket etc. a cricket fixtures list 1893, 3ANC8/6/23, Lincolnshire Archives
---
Caistor Cricket Club, 1870-79: Scorebook, Dixon 21/3/7/11, Lincolnshire Archives↩
Burton by Lincoln Cricket Club, 1849-72: records, NRA 7153 Monson, Lincolnshire Archives↩
Silver Street Cricket Club, Lincoln, 1902-14: minutes and scorebooks, BOUCHER 3/3, Lincolnshire Archives↩
---

.
.

This page took 0 seconds to generate on Tuesday, 28 June 2022 at 02:21:15
Friday night arrives without a suitcase. Sunday morning creeping like a nun. - The Beatles